By: Brian Evans
On Friday, Joe Biden slammed the request of his Senate records being released as Democrats tout that they should be suppressed and locked away until he has been out of the public spotlight for several years!
APPARENTLY, AS DEMOCRATS CALL FOR TRANSPARENCY, THEY DON'T MEAN TRANSPARENCY FOR THEMSELVES!
Therefore, after the sexual assault allegations surfaced, 2020 Presidential candidate Joe Biden announced that he would not authorize the release of his Senate records, which are currently in the possession of the University of Delaware.
He made the comments on MSNBC when he was interviewed by the leftist Mika Brzezinski. During the interview, Biden denied accusations of sexual assault from Tara Reade, who was a former Senate staffer and then said that he would not release his Senate records, which would either help prove his innocence, or his guilt!
Interestingly, Biden had taken his Senate papers and donated them in 2012 to the University of Delaware. Originally, the University was supposed to release them in December of 2019, but when Biden announced his candidacy for President, they quickly announced that his records that detailed his actions in the Senate would be sealed, and conveniently remain so until after he was out of public life!
WHAT DOES HE HAVE TO HIDE…AND ALL WHILE HE IS DEMANDING TRUMP'S TAX RECORDS!!!
Then, during his interview with Mika, Joe Biden actually admitted in public that any scrutiny on his Senate records would be bad for his presidential campaign, and said that his conversations with Russia leader Vladamir Putin could paint him in a bad light, in the eyes of the American public.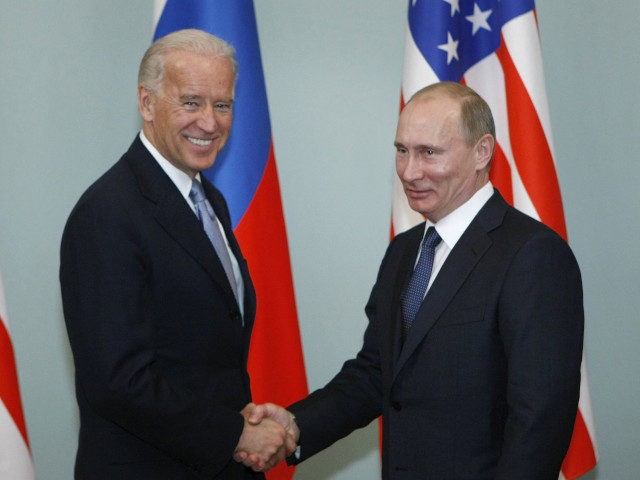 AP Photo/Alexander Zemlianichenko
He stated…
"The idea that they would all be made public and the fact, while I was running for public office, they could be really be taken out of context. The papers are position papers. They are documents that existed, for example, when I met with Putin or when I met with whomever. And all of that to be fodder in a campaign at this time, I don't know of anybody who's done anything like that."