By: Brian Evans
Drug Cartel violence in Mexico has been on the rise in recent years, as the Police in Mexico have become either scared to enforce the laws, in regards to the cartels, or have been bought off by the corrupt and ruthless organizations of crime! Now, as violence and crime continue to grow in Mexico, so does crime in the United States!
Already at ENR, we reported how this past week, the U.S. Attorney's Office announced that the United States Drug Enforcement and Kansas City Police authorities seized 220 pounds of Methamphetamines in Kansas City, Kansas! It was an investigation that came to fruition, after taking more than a year. United States authorities had been investigating a Mexican drug Cartel Cell known as the Los Viagras faction and are considered to be a part of the violent cartel's drug distribution operation which also has cells in both Washington and Georgia. This cell was tasked with distributing the meth throughout much of the Midwest region!
This Cartel Cell is from Michoacán, and Breitbart Texas reported that…
Law enforcement sources identified him as the criminal organization's main point of distribution in the area and a close associate of Cesar "El Boto or Marrueco" Sepulveda Arellano, one of the top leaders of Los Viagras in Michoacán.

As Breitbart Texas reported, the man known as El Boto is the same cartel boss who in August 2018 placed a $100,000 bounty on one of the writers of Breitbart Texas's Cartel Chronicles Project, only to be arrested by Mexican Marines 40 hours later after authorities received information on his precise location at a ho
The Indictment … Michoacan-Kansas Indictment
Sadly, the Mexican Cartel drug corridors span from the East Coast to the West Coast, hitting every major city, and then spanning out to smaller towns and cities. In addition, they have routes (B and C routes) that transport drugs across the states, from the west coast to the east coast, and everything in-between!
It creates a surreal realization as to WHY AMERICA NEEDS TO BUILD THE WALL ON THE SOUTHERN UNITED STATES BORDER, not to mention protecting American jobs from cheap illegal foreign labor, protecting our children by ending the child sex trafficking and human trafficking going on across our border, as well as, stopping the illegal gun smuggling across the United States border, which is giving criminals access to weapons in the United States to commit crimes like robberies, murders, and much more!
However, just protecting the United States from the Cartels isn't enough! In fact, just over the weekend, the drug smuggling, human trafficking, sex trafficking, and violent Cartels killed 10 Americans, including innocent American women, mothers, and precious American children, near the New Mexico border! In fact, the violence was so severe, it resulted in the car transporting the Americans exploding!
CBS reported…
Breitbart News reported…
A group of cartel gunmen ambushed and murdered three women and seven children near a rural Mormon community in Mexico, close to the New Mexico border. Six more children, all from the same family, were also injured. One additional girl remains missing. Relatives stated that all of the victims are dual U.S. and Mexican citizens.

The attack took place on Monday when three women from the Lebaron family were driving their 14 children from the town of Bavispe, Sonora, to a rural Mormon community called La Mora. According to Mexico's SinEmbargo.com.mx, Rhonita Miller Lebaron was driving one of the vehicles with her four children–two six-month-old twins and two ages 8 and 9–when her SUV got a flat tire. Her relatives turned back towards Bavispe to bring a spare.

When the relatives returned, they found large plumes of smoke coming from the roadside scene. The relatives found a charred SUV with their loved inside the vehicle. Soon after, a group of cartel gunmen attacked and forced them to run into the brush for cover.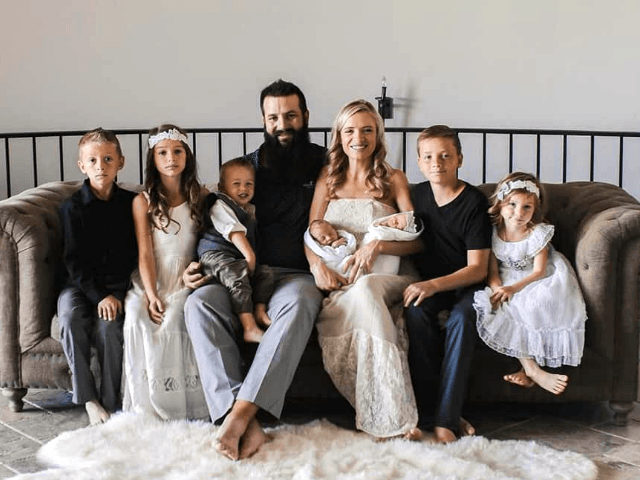 Lebaron Family Facebook
Tiffany Lankford went to Social Media to plead for help in finding the remaining family members who went missing…
Breitbart went on to note that…
The two other women and their children were struck numerous times by gunfire. Six of the children ran into the brush and survived, but one young girl is still missing. In the aftermath, cartel gunmen sealed the area for hours to keep news of the massacre from spreading. 
Another, posted a video of one of the victims of the out-of-control Cartel violence in Mexico, along the United States border…
In September 2018, Breitbart News also reported that…
Police discovered seven heads abandoned in an ice cooler Friday morning in the rural community of Bácum, Sonora–sparking fears of an escalation in an ongoing territorial cartel war.

Security elements of the State Public Security Police (PESP) and investigators assigned to the State Attorney General's Office responded to a report of heads in a cooler at approximately 4 am, according to local media. Authorities determined that all victims were males between the ages of 25 and 40 and were believed kidnapped several hours earlier in the town of Francisco Javier Mina.

According to authorities and Breitbart Texas law enforcement contacts, the Friday morning executions and the general escalation in violence in the region can be attributed to a territorial dispute between "Los Salazar," aligned with the Sinaloa Cartel, and Cártel de Jalisco Nueva Generación (CJNG). This dispute began in 2017 as CJNG moved into southern Sonora to challenge the Sinaloa Cartel's dominance over routes to the U.S. drug markets.

According to local media reports, the small community of Bácum has registered 150 homicides.

Sonora Homicides per Year

2016 – 580

2017 – 693

2018 Year to July 31 – 653
Even more frightening, is how extensively the Cartels are flooding crime, drugs, and illegal weapons across the border, which includes murders, assassinations, kidnapping, torture, extortion schemes, robberies, sex and human trafficking, gangs, and drugs like marijuana, cocaine, meth, heroin, MDMA, and black-market prescription drugs! The map below shows the extensive flows of cartel corruption and paraphernalia across America!
Now, President Trump is responding by offering to assist Mexico, in eradicating the ruthless, corrupt, and vile Cartels from their soil, as it also endangers American lives, and creates dangers for American citizens on the border, and who have to cross into Mexico! In fact, President Trump stated on Tuesday morning that…
Therefore, while Democrats continue to try and claim that there is no crisis at the border, while these ruthless and vile Mexican Cartels spread carnage across Mexico, against both Mexicans and Americans, Democrats fight to keep the borders open! These Cartels have networks of drug runners that span coast to coast, throughout the United States, poisoning and murdering our children, ravaging and wrecking the family unit, and creating misery in their wake! However, their carnage doesn't stop there! These ruthless and corrupt drug cartels kidnap young women and children throughout the United States, traffick them across the southern United States border, and sell them into the sex and slave trade! To make matters even more problematic and is costing Americans Trillions, these Cartels are responsible for bringing the majority of the illegal aliens across the border, and into the United States! In the process, they are not only bringing peaceful immigrants, but violent gang members and others whose only motivation is to create havoc, sell drugs, commit crimes, and as a result, endangers American civilians!
Now, if President Trump is able to help the Mexican authorities to eradicate the corrupt plague of cartels that is ravaging Mexico, it will only ensure the safety, security, and prosperity of the American people, and our nation as a whole!