By: Brian Evans
In May, ABC announced that they were canceling 'Roseanne' after Roseanne Barr fired off a tweet about former Obama Administration official, Valerie Jarrett. It started when Roseanne' tweeted that the…
"Muslim brotherhood & planet of the apes had a baby=vj."

Roseanne Barr 
Valerie Jarrett with her daughter, CNN Justice Dept. reporter Laura Jarrett.
Within hours of her tweet, the mainstream Media began attacking her as racist. Roseanne immediately apologized for her inappropriate tweet. She said she was joking,  deleted the tweet, and issued an apology to Valerie Jarrett and "all Americans." However, the Mainstream Media, Democrats, and Hollywood Elitists demanded her firing from ABC. Meanwhile, Disney's ABC Network President Channing Dungey released a statement saying…
"Roseanne's Twitter statement is abhorrent, repugnant and inconsistent with our values, and we have decided to cancel her show," and that "there was only one thing to do here, and that was the right thing."

Channing Dungey, President of Disney's ABC Network
The nation was then stunned when ABC canceled their top-rated "Roseanne" show.
The "Roseanne" revival was one of the highest-rated new shows of the season for ABC, with approximately 18 million live viewers watching its premiere in March. However, Roseanne is an open supporter of the President and was open about it on the show. In fact, ABC said that next season would quiet down the pro-Trump message, but Roseanne responded that her show would be openly pro-Trump.
Regardless, Hollywood veterans said that they have never seen anything quite like it. Especially since its premier blew the roof off in ratings. ABC even canceled the second season, which was already being recorded for the fall. They went even further and scrubbed all reruns of the show. Meanwhile, Roseanne's talent agency, ICM Partners dropped her as a client. They stated…
"What she wrote is antithetical to our core values, both as individuals and as an agency," the agency said in a statement. "Consequently, we have notified her that we will not represent her. Effective immediately, Roseanne Barr is no longer a client."

ICM Partners
In essence, they dumped all remnants of the show, and blackballed Roseanne Bar for her comment, regardless of apology. Roseanne then went on to apologize to the show's cast and crew, since they lost their jobs as well.
Within a few days, Roseanne Barr tweeted an apology to the show's cast and crew.
"Don't feel sorry for me, guys!!-I just want to apologize to the hundreds of people, and wonderful writers (all liberal) and talented actors who lost their jobs on my show due to my stupid tweet".

Roseanne Barr
Disney/ABC said that their decision to cancel the show was based on…
"a question of right and wrong. And it's a question of our company's values."

Disney ABC
But if it was truly "a question of right or wrong", and "A question of company values," why did they hire writer-director Victor Salva for the movie 'Powder' after he served time for child molestation. That is certainly a question the ABC is trying to remain silent on. Regardless, Democrat Congressman John Lewis applauded ABC's decision by stating…
"There is not any room in our society for racism or bigotry."

John Lewis, Democrat
CNN's Van Jones stated that…
"Some things apparently are more important than money," even for a network like ABC, "and that's heartening,"

CNN's Van Jones
Progressive Democrats were also angry over Roseanne Barr's statement about Chelsea Clinton, by calling her…
"Chelsea Soros Clinton."

Roseanne Barr
She later replied in the comments that Clinton is "married to Soros nephew." Soros is a billionaire liberal benefactor who has been the villain in many right-wing conspiracy theories over the years, according to the left. Regardless of what Roseanne did, or did not do, the hypocrisy of the Progressive-Left, Mainstream Media, Hollywood, and Democrat Party Elites is deafening.
For example, just last October Monique Judge referred to President Trump's HUD Secretary, Ben Carson as a porch monkey, which is a racial term for a 'lazy black person.' She tweeted…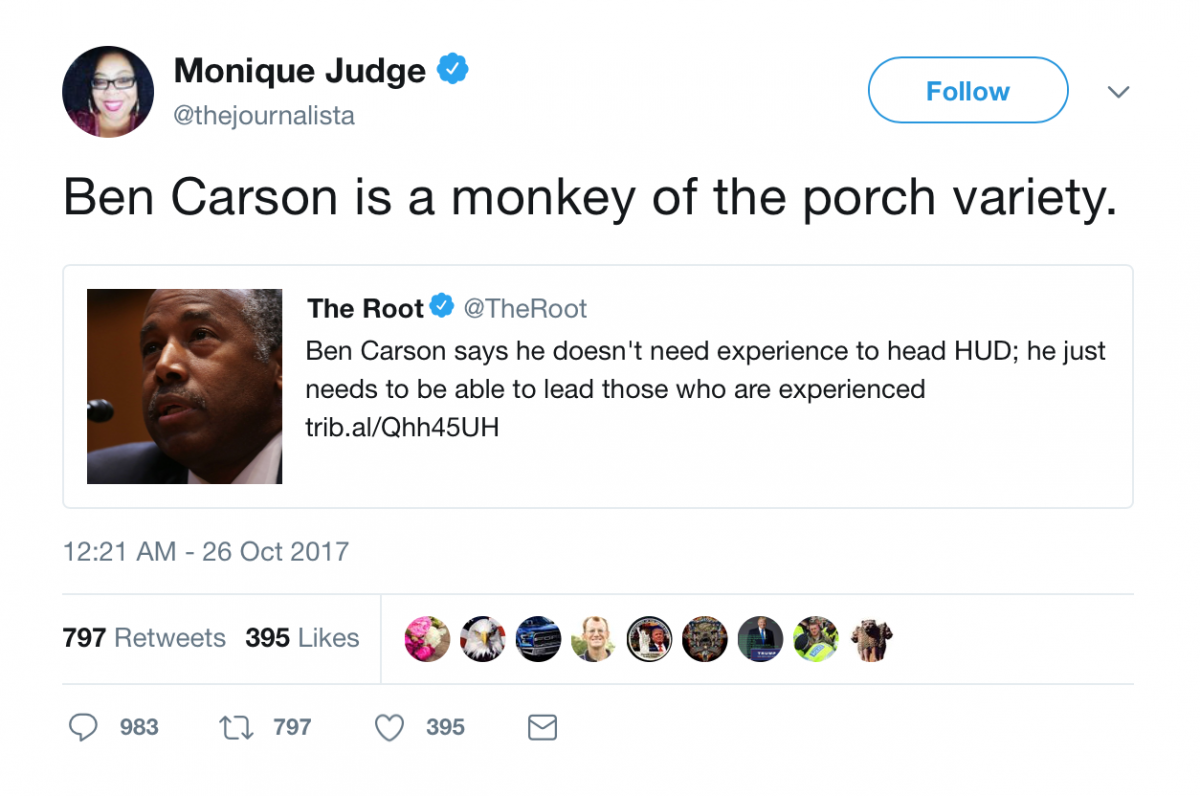 Monique Judge also retweeted a tweet from Aditi Juneja, which read…
The world would be a better place if the consequences for using racial slurs/stereotypes were this high when directed at any Black person and not just someone like Valarie Jarrett.
Then there is TBS's 'Full Frontal' host Samantha Bee's who made vile and sexist remarks about Ivanka Trump. It was in regards to a photo of Ivanka with her child being held up in her arms.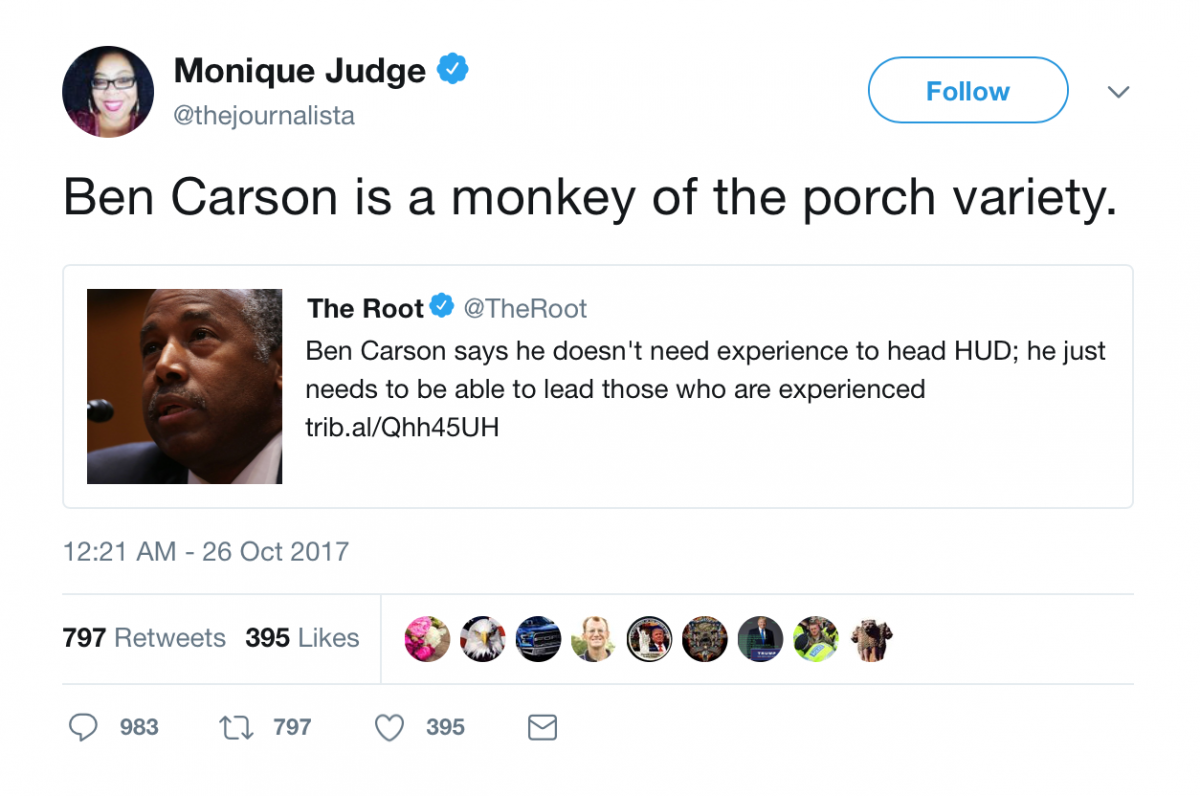 Samantha Bee stated on national television for Ivanka to…
Do something about your dad's immigration practices you feckless c*nt.", and went on to tell Ivanka to put 'something tight' on and go talk with her father.

Samantha Bee, TBS' Full Frontal
Samantha Bee apologized at first, however, she quickly began to retract her apology, while she doubled down against Roseanne. Also, it didn't take long for Progressives to line up in defense of Samantha Bee, while attacking Roseanne. In fact,  Hollywood actress Sally Field took her comments even further when she said…
I like Samantha Bee a lot, but she is flat wrong to call Ivanka a cu*t. Cun*s are powerful, nurturing and honest."

Sally Fields.
However, their attack against one of the most popular sit-com comedians left the show reeling from a viewer backlash, or should I say, new lack of viewers. ABC ended up rebooting the show, but renamed it 'The Connors', and killed off Roseanne with an alleged opioid overdose. Then, a viewer revolt sent the ratings of the show spiraling out of control, 'The Connors' continued to plummet from their debut, which was down 35% from the Roseanne opening debut.
Now, fast forward to 2019, and you can see the hypocrisy by Valerie Jarrett herself, as she now is openly supporting anti-Jewish hate speech, racism, and discrimination! In fact, on Wednesday, the former Obama adviser Valerie Jarrett tweeted a message of strong support Wednesday night for Rep. Ilhan Omar (D-MN) after she attacked Rep. Lee Zeldin (R-NY) as a bully upset at having to deal with Muslim women.
Rep. Ilhan Omar.
Representative Zeldin (R-NY) had tweeted…
Representative Zeldin is Jewish himself, and very pro-Israel. In contrast, Ilhan Omar has been openly critical of Jews and Israel, while even expressing open sympathy for the ISIS terror organization which has been responsible for the exterminated not only Jews and Christians around the globe but any human who refuses to submit to the Islamic religion and radical genocide! For example, her interview on Fox News showed, yet again,  just how much hate she holds towards Israel and non-Muslims…
On Wednesday, Arsalan Iftikhar, who is a Muslim activist quoted Zeldin's tweet that called him "Islamophobic"! He said…
Then, Representative Ilhan Omar tweeted and added to the comment and stated…
Jarrett commented to Omar…
"Shake him up, @IlhanMN! We have your back."
Sadly, too many on the radical left don't really care about racism or hate. Instead, they use it as a weapon to silence their ideological opponents by whatever means necessary, and at any cost! Even more frightening is the fact that if those radical Marxists win, American will forever be changed and usher in one of the most expansive periods of racism and hate, in the history of our nation!